Caustic Soda – Sodium Hydroxide (NaOH)
Iran Petroleum
Sodium hydroxide (NaOH) is a highly caustic and corrosive compound that is commonly known as caustic soda or lye. The name "caustic soda" comes from its ability to corrode or burn organic materials upon contact due to its strong alkaline properties. NaOH is a type of sodium hydrate, meaning that it contains water molecules within its crystal structure.
What is caustic soda?
In its pure form, caustic soda appears as a waxy, white solid that readily absorbs moisture from the air and dissolves in water to form an aqueous solution. Overall, sodium hydroxide has a wide range of industrial applications, including in the production of paper, textiles, soaps, and detergents. It is also used in the manufacturing of various chemicals, such as plastics and pharmaceuticals. However, due to its highly corrosive nature, sodium hydroxide must be handled with care and caution to prevent injury or damage.
What are the applications of sodium hydroxide?
Sodium hydroxide has numerous applications across various industries. One of its most common applications is in the production of paper and pulp. In this process, caustic soda is used to break down lignin, a complex organic polymer found in wood, which helps to separate the cellulose fibers and create pulp. It accounts for around 90% of the total sodium hydroxide consumption in the paper industry.
Another application of sodium hydroxide is in water treatment, primarily for pH level regulation and elimination of impurities like heavy metals and organic compounds. Its application in water treatment is significant as it helps in the removal of contaminants from water, making it safe for consumption and industrial use.
Caustic soda finds extensive application in the chemical industry for manufacturing various chemicals including detergents, soaps, and bleach. Additionally, it is used in the extraction of alumina from bauxite ore during the production of aluminum by dissolving the ore in a sodium hydroxide solution. Moreover, apart from its industrial applications, this substance finds widespread usage in several other domains.
One such example is its frequent use as a drain cleaner, owing to its ability to dissolve grease and other organic substances. Additionally, it is employed in the food processing industry to sanitize surfaces and equipment. It is also used to remove impurities from food products such as cocoa and chocolate.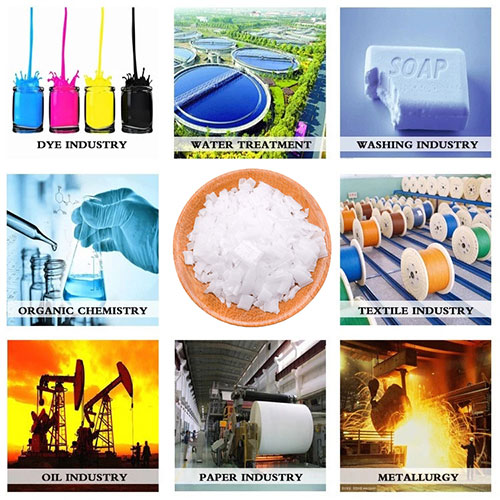 What are the various types of caustic soda?
There are several types of sodium hydroxide available in the market, each with its unique properties and applications, including:
A. Membrane-grade caustic soda
It is a type manufactured using an electrolytic process. This process involves the use of a membrane to separate the anode and cathode compartments. The resulting product has a high level of purity, up to 99%, which makes it ideal for use in high-end applications such as food processing and pharmaceuticals.
B. Diaphragm-grade caustic soda
It is a type produced through an electrolytic process. During the production process, a diaphragm is used to separate the anode and cathode compartments. Diaphragm-grade caustic soda is preferred in some applications because of its higher purity level compared to other types of the substance. Its purity level ensures that there are no impurities that can affect the quality of the end product. This type of sodium hydroxide has a purity level of 98%, which makes it suitable for various applications such as soap and detergent manufacturing.
C. Liquid caustic soda
It is a highly concentrated solution containing 32% to 50% NaOH by weight. This chemical compound finds extensive use in numerous industrial processes, including but not limited to aluminum etching, chemical synthesis, and petroleum refining.
D. Solid caustic soda
It is generated through the process of evaporating liquid caustic soda to transform it into a crystallized solid form. This chemical compound finds extensive application in different industrial processes such as water treatment, pulp and paper production, and mining.
E. Flake caustic soda
It is manufactured by cooling liquid caustic soda until it solidifies into a solid, flaky form. Flake caustic soda is widely used in diverse industrial processes, including but not limited to the production of soap and detergents, textile processing, and food processing.
Types of caustic soda that are produced in Iran and their quality
Iran is a leading producer of caustic soda in the Middle East, with an annual production capacity exceeding 2 million tons. The country's sodium hydroxide finds extensive usage in diverse industries such as petrochemicals, textiles, paper, and aluminum, which meets international standards.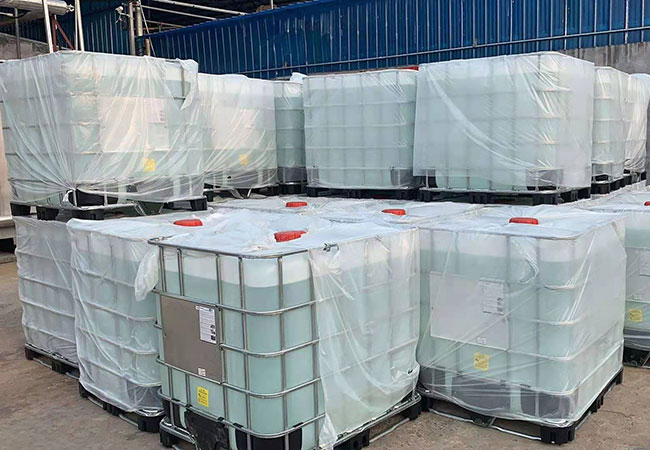 The sodium hydroxide produced in Iran is of various types, including liquid, solid, and flake. Iran also produces other forms of sodium hydroxide such as membrane-grade caustic soda, which is used for the production of chlorine gas and PVC resins.
High quality sodium hydroxide production
The sodium hydroxide produced in Iran is of high quality, which is significantly influenced by the availability of raw materials. Iran is known for its substantial reserves of salt, which is a crucial raw material used in the production process of sodium hydroxide. Iran also possesses abundant reserves of natural gas, which serves as the primary raw material for the production of caustic soda. Consequently, Iranian manufacturers can produce the substance at a relatively lower cost compared to several other countries. This translates to a more competitive price point for buyers who can often obtain this material from Iran at a more attractive rate.
Moreover, the country has access to affordable electricity, which plays a vital role in the electrolysis process. It is of high purity, making it suitable for use in numerous industries. Iranian manufacturers employ cutting-edge production techniques and technologies to ensure that their products adhere to rigorous quality standards.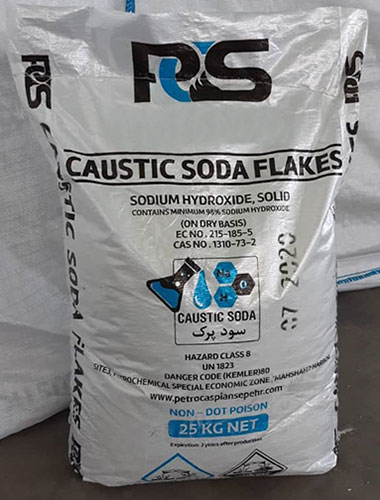 In conclusion, the caustic soda produced in Iran has various benefits owing to its exceptional quality and purity. Its extensive applications span across diverse industries, including pulp and paper, textiles, aluminum, petroleum products, and food processing. It is also an effective water treatment solution due to its high alkalinity.
Please do not hesitate to contact Iran Petroleum if you are looking for the best quality and price offer for Caustic Soda produced in Iran.