Poly Aluminum Chloride – PAC
Iran Petroleum
Poly aluminum chloride is introduced in the consumer market with the industrial name of Poly Aluminum Chloride.
Other names of PAC include basic aluminum chloride, polybasic aluminum chloride, aluminum hydroxide, aluminum oxychloride, and aluminum chlorohydrate.
This product, abbreviated as PAC, is a widely used coagulant; which is widely used instead of two old coagulants, aluminum sulfate and chloroauric and it causes flocculation, reduction of TDS of water, clarification, removal of turbidity and instability of colloids. In terms of appearance, the PAC has 2 types: solid and liquid, which is solid poly aluminum chloride in the form of powder or crystal.
According to its production grades, it is produced and marketed in two colors, from milky white to bright yellow. Liquid poly aluminum chloride is produced in light yellow to reddish yellow color and can be edible or industrial. The pack is produced with 3 types of purity: 9%, 18%, and 30%.
What is poly aluminum chloride?
Poly aluminum chloride is a polymeric and inorganic coagulant. Several applications of this technology have been developed over the past few years, including the treatment of drinking water, sewage, agricultural and industrial effluents, and wastewater.
This inorganic coagulant is very efficient in the world and forms stable compounds with many inorganic and organic substances.
This substance is used in the food, cosmetic, and leather industries, in the public sector, in drinking water purification and conditioning, in water purification processes for thermal power plants, regional power stations, steam boilers, and for swimming pool water purification mainly in the cold season.
During the separation and extraction of water impurities, this industrial material operates at high power and speed. China, Canada, America, Italy, France, and England are among the countries using poly aluminum chloride as a coagulant agent in their water purification systems.
Throughout Iran, this material replaces old coagulants (aluminum sulfate and chloroferric) in many industries.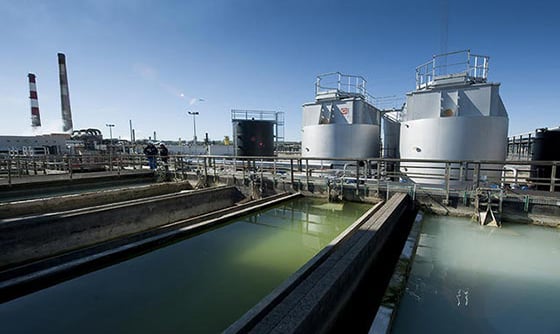 Features and characteristics of aluminum chloride
Among the unique and special characteristics of poly aluminum chloride are having a long life, not changing the PH of the water, reducing consumption, coagulant amount, being strong and effective, producing little sludge or waste, high efficiency, ease and Ease of use, hygiene, reduction of water corrosion activity, reduction of costs of neutralization after coagulation, no temperature limit, efficiency, and reasonable price. Due to its higher purity percentage, higher molecular weight, and better coagulant properties, poly aluminum chloride is more commonly used than other coagulants and has many supporters.
| | |
| --- | --- |
| Chemical formula | AL2 (OH)n CI6 |
| Molar mass | 174.45 |
| pH | 2.3 – 2.7 |
| Color | White, yellow, brown |
| Density | 2.48 grams per cubic centimeter |
| Melting point | 378.3 degrees Fahrenheit or (192.4 degrees Celsius) |
| Boiling point | 356 degrees Fahrenheit or (180 degrees Celsius) |
Types of poly aluminum chloride
Edible type (drinking PAC): Sedimentation of suspended colloidal particles in the process of drinking water purification, such as hardening resin.
Industrial type (wastewater PAC): flocculation and coagulation of suspended substances in water and ultimately causes the heaviness and sedimentation of substances in sewage and effluents.
Types of poly aluminum chloride based on color
Several types of colors are available on the poly aluminum chloride market, each of which is designed for a specific use. There are three primary colors available for this chemical: white, yellow, and brown.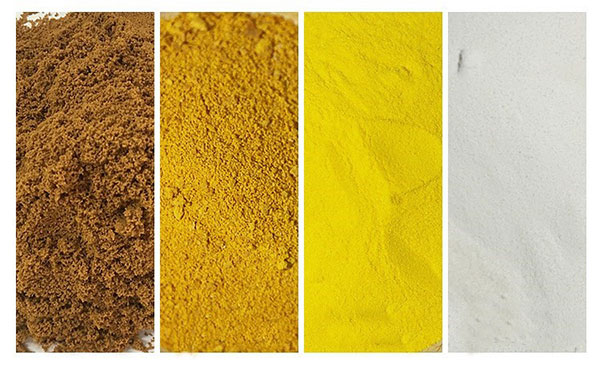 White polyaluminum chloride
White-produced polyaluminum chlorides have a high purity percentage. Also, this type of "PAC" is produced without iron, and because of these characteristics, it is also used in food. Compared to other polyaluminum chlorides, this color of the product is the highest quality product produced by hydrochloric acid, which uses the most advanced technologies (spray drying method) in its production. White polyaluminum chloride is used in many fields such as papermaking, sugar decolonization and clarification, tanning, medicine, cosmetics, casting, and water treatment.
Yellow polyaluminum chloride
In the production of yellow poly aluminum chloride, raw materials including calcium aluminate powder, hydrochloric acid, and bauxite are used, which are similar to the materials used in the water purification process. In the purification of drinking water, materials such as aluminum hydroxide powder, hydrochloric acid, and aluminate powder are used together with a little calcium.
In its production process, the screen and frame pressure method or the spray drying process is used to produce this color spectrum. Nevertheless, because drinking water purification has strict rules regarding heavy metals, both the raw materials and the production method selected have a higher percentage of purity than the brown color. There are two solid forms of yellow poly aluminum chloride available on the consumer market, sheets and powder. It is usually produced through drum drying or spray tower drying.
Brown polyaluminum chloride
Brown poly aluminum chloride is produced from the raw materials of calcium aluminate powder, hydrochloric acid, bauxite, and iron powder, and the drum drying method is used in its production process. This method is usually used for poly aluminum that is used for wastewater treatment. The brown color of this product is due to the presence of iron powder, which contributes more color. In some cases, it is also called polyaluminum iron chloride due to the excessive amount of iron powder.
Global Polyaluminum Chloride Market
It is well known that poly aluminum chloride is an inorganic polymer that is produced commercially by reacting aluminum with hydrochloric acid. The most common industrial method of its production is preparing a solution of aluminum chloral hydrate and reacting it with hydrochloric acid. Due to the extraordinary effectiveness of this substance as a coagulant and high antibacterial effects, its use has significantly increased in various water treatment industries.
The growth of the global PAC market in 2020 has been significantly upward, among the factors that cause the growth of this market; It is used in pulp purification, water purification, textile, and also plastic industry.
Since polyaluminum chloride is considered an excellent coagulant and coagulant for cosmetics and personal hygiene products such as (sprays, etc.), for this reason, there is a lot of attention from the pharmaceutical sector for this substance. Recently, this chemical is widely used in water treatment because it speeds up the process of coagulation of substances that are removed by other methods. As a result, the frequency of demand for this chemical in the industrial sector is high.
Global Polyaluminum Chloride Market Analysis
With the increase in population and its upward growth, the demand for consumption also increases, and this has a direct impact on all dimensions of life, especially the on economic aspects. Poly aluminum chloride is also widely used as one of the important chemical raw materials in many industries; Due to the increase in demand, its consumption has also increased.
There are many producers of this substance in the world; According to LpI analysts, there are nearly 1000 manufacturers worldwide. Polyaluminum chloride sales market is segmented based on region, country, company, type of application and sales areas.
This market had an upward trend from 2018 to 2022 and its sales were 1132 million US dollars and it is expected to reach 1583.5 million dollars by the end of 2028. The global polyaluminum chloride (PAC) market is divided into different regions such as North America, Europe, Asia and the Pacific.
Among these, Asia and the Pacific have the largest revenue share in the global polyaluminum chloride market; But this high purchasing demand is due to the incredible growth in the cosmetics manufacturing industry. It is expected to register the fastest growth in the forecast period with this method.
Application of poly aluminum chloride (PAC)
There are many uses of poly aluminum chloride, some of which you can see below:
Water treatment and return effluent from stone and ceramic tile factories
Drinking water treatment
Municipal wastewater treatment
Treatment of industrial wastewater from production lines of various industries
In order to recover coal from its washing effluent
In order to prepare pulp in cellulose industries
For the purpose of separation in oil and gas and petrochemical industries
Used in textile, leather and skin industries
In order to reduce the COD amount of oxygen required
Preventing the formation of micelles in the food industry
Used in sugar refining process
Catalyst carrier in chemical processes
Rapid setting of cement in construction industry
Cosmetic-sanitary industries (preparation of cosmetics)
Chemical manufacturing
Neutralization and precise measurement of cellulosic fibers and paper preparation
Reducing fiber consumption in paper production
Softening of the paper surface
Improved drying speed
Increasing mechanical strength and resistance
Prevent micelle formation
In the production of starch to separate water from starch, it has a significant effect compared to other alternatives.
Iran Petroleum has become one of the largest groups selling all kinds of chemicals in Iran with the help of capable experts. We invite you to contact our advisors for the latest information about our products as well as advice regarding the purchase of our products.